Dr. Rachel E. Lewin received her orthodontic training and certificate from the Tri-Service Orthodontic Residency Program in San Antonio, TX, as well as a Masters of Science in Oral Biology. She fell in love with orthodontics from a young age, as an orthodontic patient and later as an orthodontic assistant.
She went to dental school at Tufts University School of Dental Medicine in Boston, MA on an Army scholarship, and after graduation completed an additional year of Advanced Education in General Dentistry in Fort Sill, OK. Prior to becoming an orthodontist, she served in the Army as a general dentist for 7 years in Texas, Kentucky, and ran a mobile dental clinic based out of Germany with coverage throughout Europe and Africa.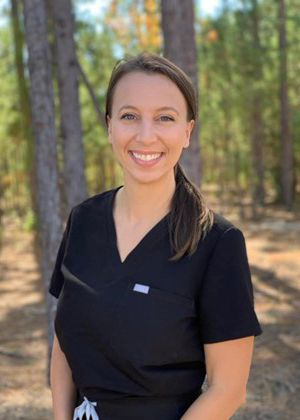 Dr. Lewin is board certified in Orthodontics and Dentofacial Orthopedics by the American Board of Orthodontics. She holds an active dental license in North Carolina, Massachusetts, and Kentucky and is a member of the American Dental Association, the American Academy of Orthodontics (AAO), and the Association of Army Dentistry.
She is passionate about comprehensive dentistry and orthodontics and enjoys teaching and mentoring. When not at work, she loves outdoor sports and fitness, reading, cooking, and spending time with her husband and their young daughter.